Rams vs. Saints Match Preview & Betting Odds 2018/19
Published January 20, 2019
The last time these teams met they combined for a whopping 80 points and this game isn't expected to be any different as the top two offenses in the league face off with a trip to the Super Bowl on the line. While their offenses were among the league's best, both defenses finished in the middle of the pack, which should make for another high-scoring affair.
The Saints did boast the league's second-best run defense, however, which could make things difficult for a Rams team that put up a ridiculous combined 273 rushing yards and 3 touchdowns against the Cowboys last week.
The Rams averaged an NFC-best 32.9 points per game while giving up a 20th-ranked 24 points per game. The Saints averaged 31.2 points per game while giving up 22.1 points per game. The last time these two met, Drew Brees led the upset over the Rams with 346 yards and 4 touchdowns to Jared Goff's 391 yards, 3 touchdowns, and 1 interception.
Todd Gurley put up 79 total yards on 19 touches while Alvin Kamara put up 116 yards and 3 touchdowns on 23 touches. Michael Thomas caught 12 passes for 211 yards and a touchdown while Brandin Cooks caught 6 passes for 114 yards and a touchdown.
Tips:
The Rams went 4-5-1 against the spread over their last 10 games and 2-2 ATS on the road.
The over has hit in 5 of the Rams' last 10 games and in just one of their last four road games.
The Rams put up 483 yards of total offense the last time they faced New Orleans.
The Saints went 5-5 against the spread over their last 10 games and 3-3 ATS over their last six home games.
The over hit in just 4 of the Saints last 10 games and in 3 of their last 6 home games.
The Saints allowed just 80 rushing yards per game and 3.6 yards per carry this season.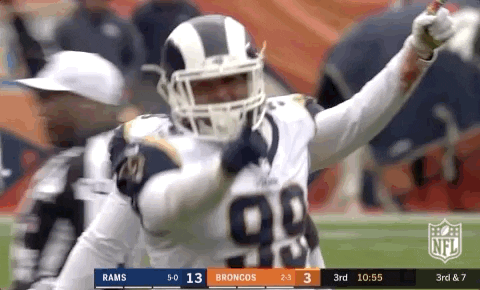 Pick and prediction:
Rams +3:
Drew Brees may have bested Jared Goff in their last meeting but the Saints have not looked like the same team since their Week 13 loss to Dallas. After scoring just 10 points in that one, the Saints won games against the Panthers and Steelers by just three points in back-to-back weeks before losing their final game (while resting players) to the Panthers. Last week they barely eked out a win over the middling Eagles, who scored just 14 points. The Rams are averaging 36.3 points per game over their last three games.
Over 56:
The NFL is now an offensive league and the fact that the top four offenses in the league made the championship round is proof. The last time these two met they combined for 80 points. The Rams averaged 57 combined points per game while the Saints averaged 53 combined points per game.